GULFOOD Manufacturing 2015
Dubai World Trade Ctr.
October 27-29, 2015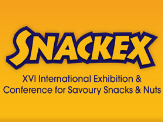 SnackEx 2015
Istanbul Congress Center
June 10-11, 2015

FOODASIA 2016
12 – 15 April 2016 Singapore Expo

FoodAsia2016, the 20th International Exhibition of Food and Drinks . As one of the six specialised events of Food
& HotelAsia2016 (FHA2016), FoodAsia2016 will feature an extensive selection of products and supplies by international
manufacturers and suppliers for the food and drinks sector. From fresh produce to ready-to-eat products,
and confectioneries to beverages, this dedicated F&B platform caters to the every need of the
Asian buyer. Being one of the world's largest and most comprehensive food shows,
FoodAsia will attract tens of thousands of highly relevant buyers from Asia and beyond,
making it the must-attend trade event for everyone in the food and hospitality industry.



THAIFEX World of Food Asia 2016

25 – 29 May 2016 Bangkok, Thailand
Are You Ready For THAIFEX-World of Food Asia 2016?
The upcoming 2016 exhibition encompasses IMPACT Challenger Hall 1 to 3,
and the IMPACT Exhibition Center (IEC) Hall 1 to 4. The combined floor space of 80,000 sqm
boosts and optimizes hall segmentation across the various sectors.